Over the years, many people have encouraged me to start making little girls' clothing to sell. For one reason or another, I have resisted. But after changing over to PDF Girls Sewing Patterns, I realized that the majority of my time has been spent on the computer, rather than my great love of sewing. So I am very excited to announce that Lilac Lane Clothing is born! Every piece is 100% handmade by me from the most beautiful, fun, wearable fabrics I can find. Know what else? There are also lots of beautiful accessories to match! This adventure has been a real labor of love, and I hope you will enjoy our offerings. And if you're a huge pattern fan, don't worry, we will continue to produce patterns as well.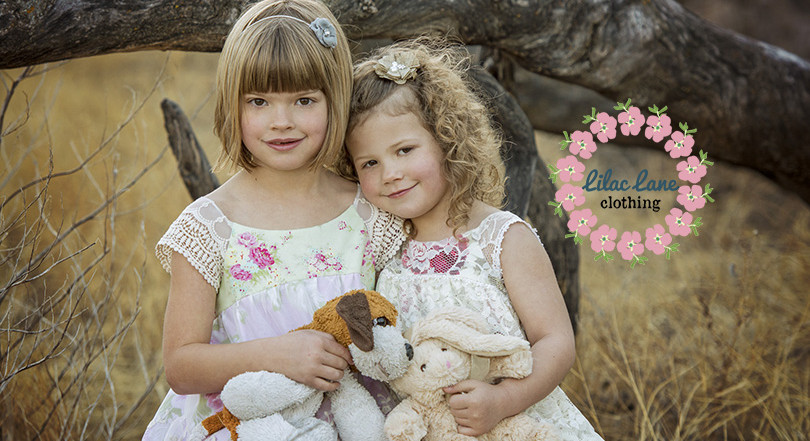 LITTLE GIRLS CLOTHING HANDMADE WITH LOVE IN SMALL QUANTITIES.
To shop currently available Lilac Lane Clothing, please visit our handmade girl's clothing boutiqueon Etsy.
At Lilac Lane, it all starts with an original design. Once the design is created and tested, Lilac Lane Clothing is made from the best fabrics we can find. We use heirloom laces and delicate trims to enhance the outfit. Every little bit of our clothing is handmade with exacting finishes, including hand stitching where needed and French seams where possible. The garments are made to last the test of time and to be handed down for generations. Comfort is always kept in mind, as beautiful clothing should also be fun to wear.
All of this is produced in our in-house studio. You can be confident of quality that lasts for generations when you purchase from Lilac Lane.
Do you need something completely custom? Please contact us. We will make an outfit to your size specifications, and we will work with you on your vision. Lead times available by asking. info (at) lilaclanepatterns (dot) com