Welcome back to the Very Basics of Quilting Series. So, we've amassed our supplies, and chosen our fabrics. This week let's pick a pattern.
Now you might love the look of cathedral windows or a double wedding ring quilt. But for your very first quilt, you should definitely steer clear! Whether you're looking online, in a magazine or at quilt patterns in a fabric shop, most should be marked with a level. For example, my own patterns are marked "beginner," "advanced beginner," "intermediate," or "advanced." We are going for beginner. Not only that, but there are certainly levels of beginner. Some beginner patterns assume you have made a few quilt before. Let me introduce you to a few that are great choices for a first quilt. Another thing to keep in mind is the size of a quilt. A queen-sized quilt for your bed may not be the way to start! Unless, that is, you are very persistant. If not, look at wallhangings and baby quilts. Most baby quilts are easily adapted into a wallhanging or lap sized quilt with a few fabric change-ups.
The block used in this quilt is called a 9-patch, because as you can see there are 9 patches in each block. I actually made this quilt when I was 13 years old and it is one of the simplest you can choose. Your blocks are all cut to the same size and then they are pieced in three rows of three patches before sewing them into a block.
A log cabin is another wonderful choice for a first quilt. You start with a center square and then build in strips around it, either using darks and lights to create a pattern or using strips to make boxes.
Of course, I think we can even go a little bit easier. There are several quilts for the modern quilter which are made in a freeform pattern, meaning basically that there are no rules. One such quilt is by my friend Thomas Knauer and you can purchase it from his website.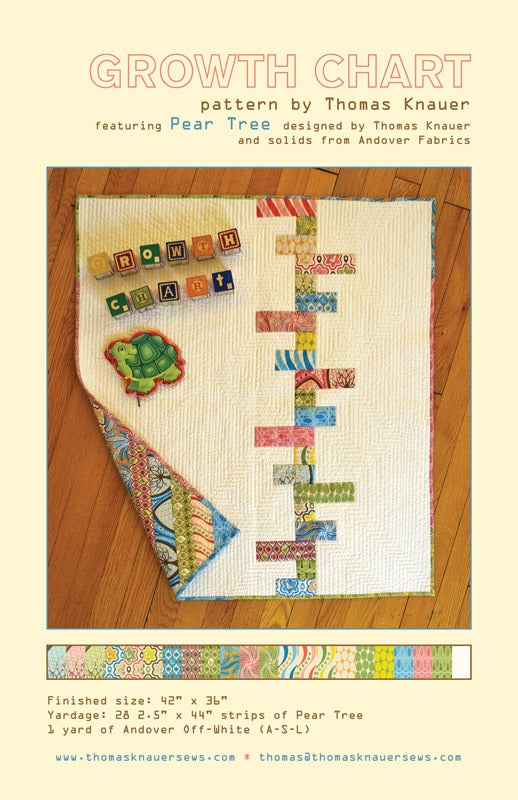 I think you get the picture. To sum up, choose the following:
*  a pattern marked beginner
*  a pattern made from squares or rectangles
*  a wallhanging or lap-sized quilt
*  if it looks like it doesn't have matching intersections, it will be easier still
Next week we'll go through some of these patterns and talk about sewing techniques.
Love,
Related posts: