Ahoy, stitch enthusiasts! 🧵✨ Ever felt the urge to dive into the vibrant world of Mexican culture while indulging in your favorite pastime? Well, Povitrulya's got your back with their "Viva la México" cross stitch kit.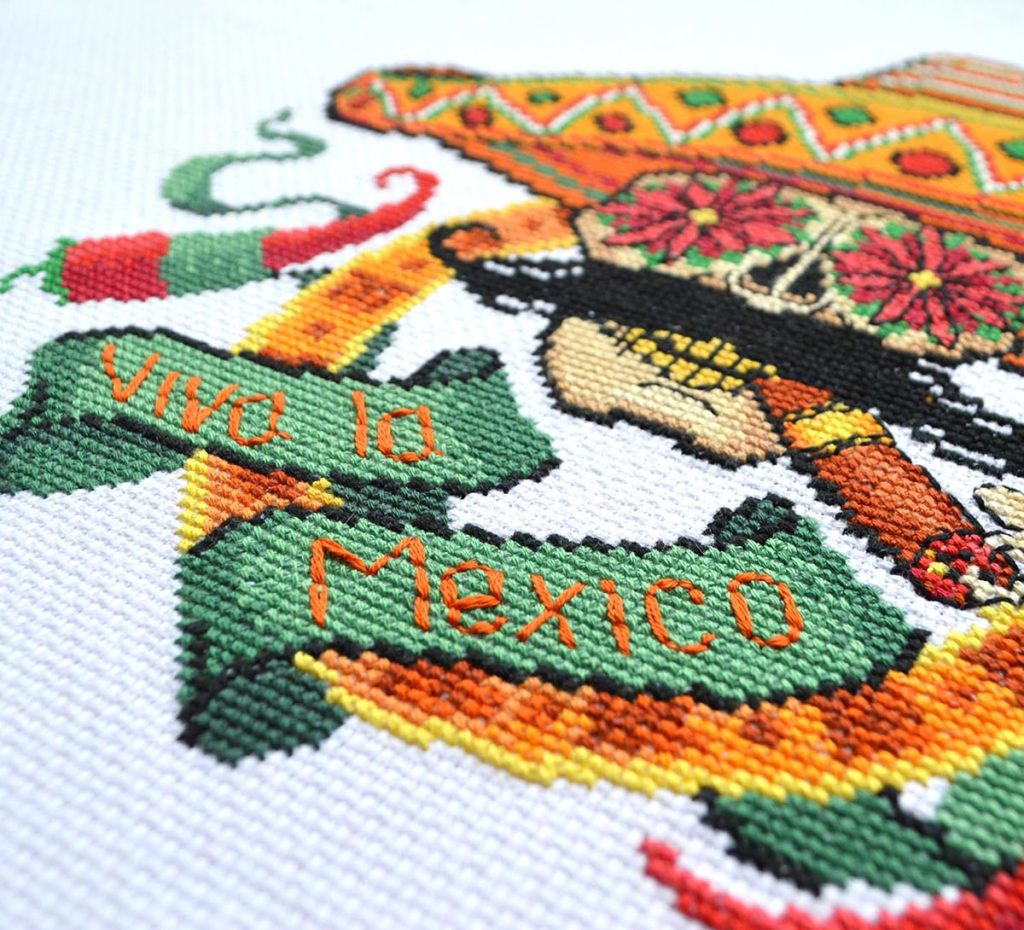 What's Inside?
Pattern & Guide: No more guesswork! The kit comes with a detailed pattern and a guide to ensure your stitches are on point.
Materials: You get a 14-count Aida cloth, threads in 20 popping colors, and a trusty needle. And guess what? The canvas is blank, giving you the freedom to let your creativity run wild.
Theme: The kit is all about celebrating the iconic Día de los Muertos (Day of the Dead) with a vibrant calavera (skull) design. If you're not familiar, calaveras are often made from sugar or clay and are a staple in Mexican Day of the Dead celebrations.
Size & Color: The design measures 8.7 x 9.05 inches. With 20 thread colors to play with on a white canvas, you're in for a visual treat!
For Whom?: Whether you're a seasoned stitcher or a newbie, this kit is perfect. It's designed to enhance hand-eye coordination, making it suitable for both adults and kiddos
The Cultural Connection: You know, there's something truly magical about stitching a piece that carries so much cultural weight. Every thread you weave isn't just adding color to the canvas; it's connecting you to centuries of tradition, stories, and celebrations. As you stitch the Calavera with its cigar and sombrero, you're not just crafting an image; you're embracing a slice of Mexico's soul.
Stitching Tips for the Adventurous: If you're feeling a tad adventurous (and I know some of you needle ninjas are!), why not add your own flair to the design? Maybe throw in some sequins for that sombrero or use glow-in-the-dark thread for the Calavera's eyes. Remember, needlework is as much about creativity as it is about skill. So, let your imagination run wild!
A Conversation Starter: Once you've got this beauty hanging on your wall or draped over your couch, trust me, it's going to be a conversation magnet! From the curious "What's the story behind that skull?" to the impressed "Did you make that?!", you'll have plenty of opportunities to share tales of Mexico's rich traditions and your own stitching journey.
In the World of Art: The influence of Dia de los Muertos and characters like Santa Muerte isn't just limited to festivals or needlework kits. Modern art, movies, tattoos, fashion – they're everywhere! From edgy street art murals to runway fashion designs, the vibrant colors and deep symbolism of these icons have inspired creators globally. It's a testament to their universal appeal and the timeless allure of Mexican culture.
Wrapping It Up: So, there you have it, fellow stitchers! The "Viva la Mexico" kit isn't just a pastime; it's a passport to a world of color, culture, and creativity. Whether you're stitching away on a rainy afternoon or showcasing the finished piece to friends, remember the heart and history behind every thread. And hey, next time you're sipping on some margaritas, raise a toast to the vibrant spirit of Mexico and the joy of needlework!